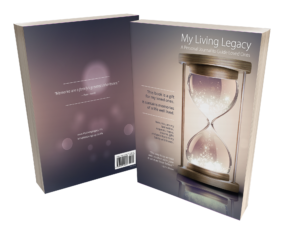 I ordered this book from Susan and gave it to my mom. She filled it out and placed special notes to all of us inside the book which was such a surprise. It was one of the most treasured gifts she could have left for us. Til this day we still pour through it looking for little signs from her. Gone but never forgotten when we see her handwriting and feel her incredible energy.
Andrea Dougherty Balestri 2007
Your beautiful book, My Living Legacy, was waiting in the mail for us to pick up at the Post Office this morning. We arrived back home late yesterday from our trip to the Manitoulin Island.
I just finished going through it (with care) and all I can think to say is: WOW! Your inspired thought for this work is beautifully expressed in its execution. The careful thought that went into it, the excellent research that you undertook, and the admirable writing (I liked the quotes) all add up to a book that I think will be a valuable tool for all thoughtful people to use as we come face-to-face with making those inevitable (and practical) decisions concerning end-of-life matters.
As for a statement concerning legacy? I'm not so sure. For myself, I like the thought expressed by Matshona Dhliwayo, (Canadian philosopher born in Zimbabwe):
" Let your work speak for itself: If poor, it will remain silent.
If average, it will whisper. If good, it will talk. If great, it will shout.
If genius – it will sing".
I congratulate you on a work well done. It sings!
Tim